Availability
Late August - Early June
The Lake View Room
At 4,000 square feet, the Lake View Room has ample space for wedding receptions, parties, events, and meetings. This stunning venue features a large stone indoor/outdoor fireplace, large screen TV, a professional sound system, and retractable glass doors that open onto a large deck. The rustic elements and muted color palette pair perfectly with most decor and allows you to make your event truly personal.
Relax and enjoy the true beauty of Trout Lake from the deck as the sun sets behind the picturesque Stone Overlook Pergola site. Whether you experience the vibrant fall leaves, cool winter snowfalls, or spring bursts of color, the view is truly magical year-round.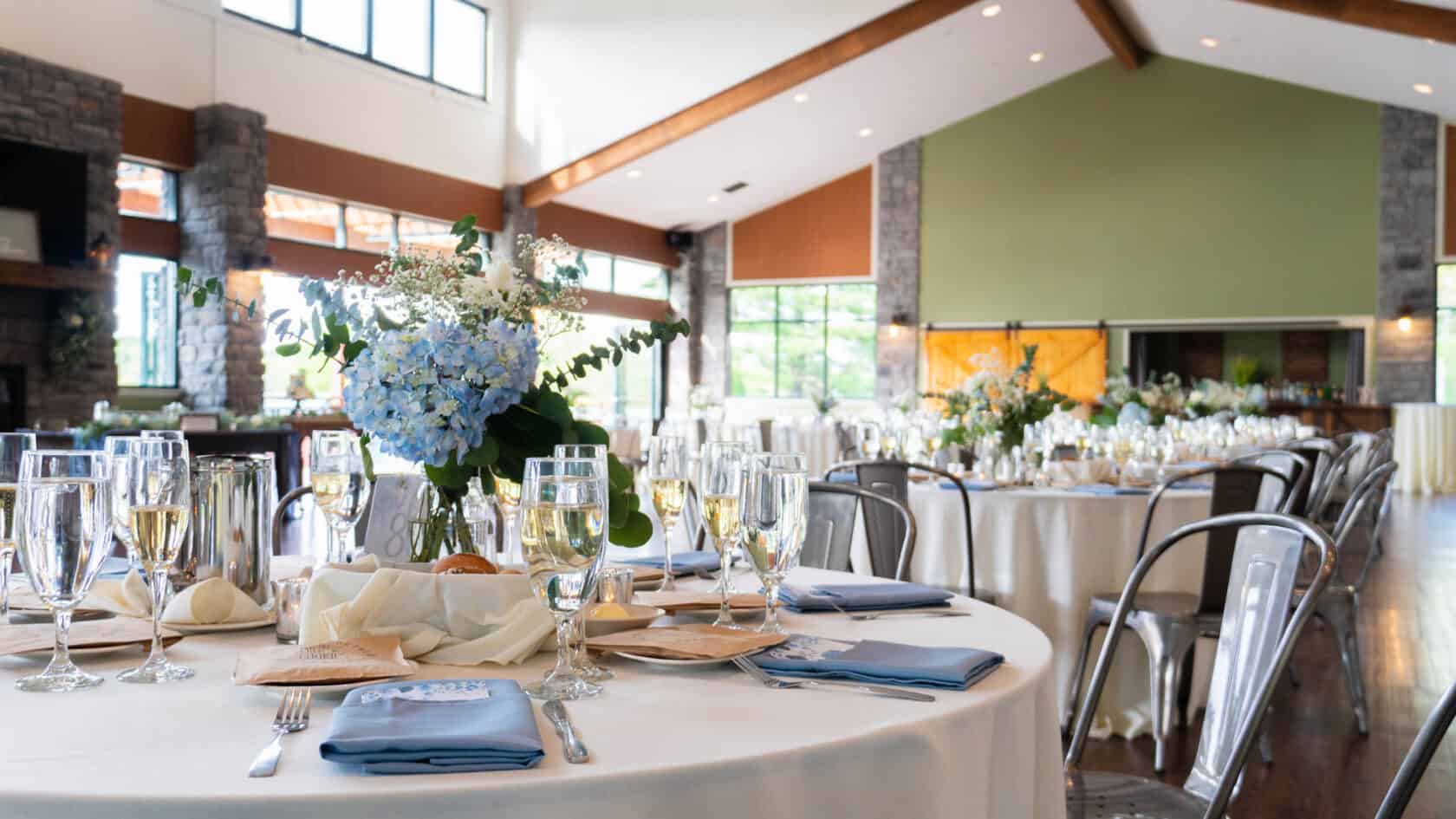 What's Included
With multiple floor layouts, comfortable contemporary chairs, and options to add sweetheart tables, cake displays, and bars, Lake View offers flexibility to suit any event for up to 250 guests.
All the round tables, chairs, linens, and dinnerware are included. There is also an assortment of decor options offered free of charge.
Discover Our Space
My husband and I got engaged in Feb 2020, just as everything around us started to fall apart. When we came across the pictures of Trout Lake we knew that this was the vibe we were looking for. Our first tour was done virtually and although we weren't there in person, we needed to act quick on locking this venue in as many 2020 weddings were being postponed. A few months later we were able to go onsite and realized that the pictures don't do justice and felt so much relief to know that we booked a venue virtually that we fell even more in love with in person.
My husband and I just got married here and it was everything I dreamed of and more. From the grounds to the lake view dining room, this venue is absolutely gorgeous. If you're looking for a venue that has that rustic, woodland feel but also has beautiful views of a lake and mountains, look no further because Trout Lake has it all!
We couldn't have chosen a better venue than Trout Lake to host our fall wedding. We were blown away by the beauty of the property when we first visited, but since then, it's gotten even more so with a gorgeous covered outdoor area (we did our first look here), and incredible deck that made our ceremony entrance that much more breathtaking. We've received ENDLESS compliments about how gorgeous our venue was!
Ready to Come Visit?
We welcome you to come tour our facility, meet our staff, and see our stunning property for yourself! If you are too far away to stop in for a personal tour, no worries; we are happy to do a virtual tour and answer any of your questions.